By:  Deborah A.P. Hersman, President/CEO of the National Safety Council
When you think of April, thoughts of Spring and baseball's Opening Day may come to mind. The start of a new season brings hope for your favorite team and the season they might have between now and October. You might be cheering for an underdog, but as the Cubs proved to Chicago fans last year, when you shoot for the moon and persevere, you can achieve your goals.
The National Safety Council has our own moonshot goal – to eliminate preventable deaths in our lifetime. For us, April brings to mind a very important day – Workers' Memorial Day on April 28 – one that makes our mission critical.
More than 4,800 workers are killed each year, according to the Bureau of Labor Statistics. One death is one too many, but thousands of deaths is unacceptable and we must commit to doing more. We take Workers' Memorial Day as a time to remember those lost too soon, and raise awareness of workplace safety. 
So how can we prevent these deaths and the 4.4 million injuries in our workplaces? Much like World Series champions, we need to have a game plan and work together as a team. On successful teams, everyone has a job to do and everyone has a voice, and it's the same in safety. Safety professionals conduct employee safety perception surveys to get the pulse of what their workers think about safety in their organizations.
At the National Safety Council, we recently conducted a national poll of 2,000 workers to see what's on the average American worker's mind. Here's what we found:
36 percent feel their employers prioritize productivity over safety
Getting the job done should never be more important than your safety. Workers are a company's most important asset, and employers should create a culture where safety comes first. The best workplaces encourage anyone to stop a job, the production line or the project if they identify a safety risk.
30 percent say employees are afraid to report safety issues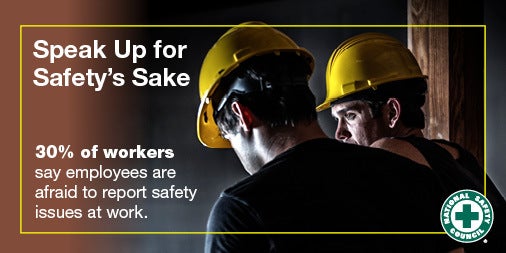 We know it may be hard to speak up when an issue arises, but it is crucial to your safety and the safety of everyone around you. The good news is that 77 percent of respondents say safety is a priority at their workplace. You should never fear retaliation for bringing up a safety concern – odds are you aren't alone in your thinking, and that there is something management can do to help fix the issue if they know about it.
Only 62% say all employees are involved in solving job safety issues
As a worker, you know your job the best. A grand slam would be 100 percent of workers feeling that safety is part of their job description. Take an active role in your company's safety committee, or work to get one off the ground if you don't have one. Always be on the lookout for dangers, so you are able to prevent harm.
Ultimately, it is your employer's responsibility to create a culture of safety within your organization. But again, to achieve a moonshot of zero preventable deaths and injuries, it's going to take all of us. As the great Jackie Robinson once said, "A life is not important except in the impact it has on other lives." So think about the position you play, and what you can do to keep yourself and others safe at work. When it's your turn at the plate, swing for the moon and help us reach our goal of eliminating preventable deaths so that every worker goes home safely.