Slow Down, Drive Safely in Winter Weather
Dec 20, 2013
Posted December 18, 2013 by Union Pacific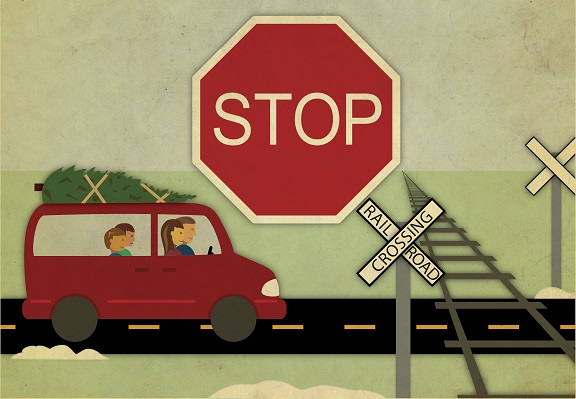 "Reducing your speed and allowing plenty of time to come to a complete stop is especially important near grade crossings," he added. "It can take a mile or more to stop a train, and by the time a locomotive engineer sees you on the track, it is too late to stop. If you're driving too fast for the slick conditions you won't be able to stop in time to avoid running into the path of or into the side of a moving train at a crossing."
According to the Federal Railroad Administration, 271 people died and 930 were injured in 2012 in grade crossing incidents across the United States. The Department of Transportation studied accident reports over a 10-year period and found 94 percent of public grade crossing accidents were caused by risky driver behavior, such as driving around activated automatic gates. Union Pacific urges drivers and pedestrians to use caution near railroad tracks and offers the following rail safety tips:
Expect a train and look both ways before crossing railroad tracks.

Wait for trains and do not attempt to beat approaching trains.

Avoid getting trapped on the railroad tracks by ensuring there is enough room on the other side for your vehicle to completely clear the tracks.

Pedestrians should only cross the tracks at designated railroad crossings. (Where the street intersects with the tracks.)

Never walk between the rails in other areas that are not designated railroad crossings.

Avoid distractions such as loud music, texting or talking on cell phones when crossing the railroad tracks.
For more rail safety information, go to upcares.com.